True surface discharge or surface gap spark plugs have no side electrode, instead utilizing the entire face of the plug shell as a ground to ignite. Thus the gap remains constant through the plugs entire life. They have no given heat range as the electrode design prevents the firing tip from overheating, and the insulator is flush with the metal shell to dissipate heat quickly. Therefore, these plugs are susceptible to fouling in cold applications.

Surface discharge plugs may be required in high compression applications or with high energy ignition systems. They are also used in rotary engines as they present a flush face to the combustion chamber, eliminating interference with an electrode tip and exposing the spark to the entire air/fuel mixture for improved combustion.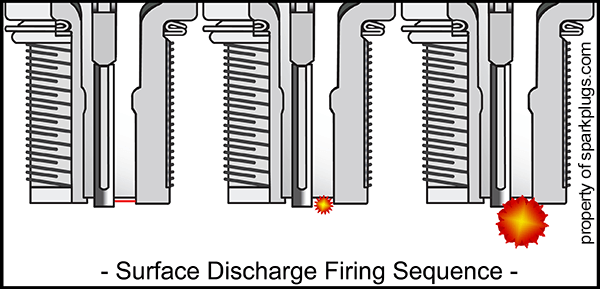 Many variations of the surface discharge plug exist, including the semi-surface discharge, intermittent gap, supplementary gap, and surface air gap plug. All designs create a spark along the insulator nose to remove carbon build-up.